Looking for love in the digital age? Trying to find a trustworthy dating platform? Is it worth spending time and money on dating sites? 
Welcome to our review of the ZenDate.com platform. We provide a concise and informative overview of this platform, giving you a glimpse into its features, functionality, and overall user experience. We will describe the registration process and explore the range of services available.  
We will examine the site's security measures, privacy policies, user support, and to determine if they really ensure a safe and reliable dating environment.
Reasons Why You Can Trust Krystyna
ZenDate.com - What We Found About The Site
ZenDate.com presents itself as a leading global online dating company, connecting singles from over 32 countries. It was initially launched in 1993 under the name ChinaLove.com and later rebranded as ZenDate.com in 2021. The platform has a significant presence in Europe, Asia, North America, and Latin America, aiming to bring singles together and foster meaningful relationships.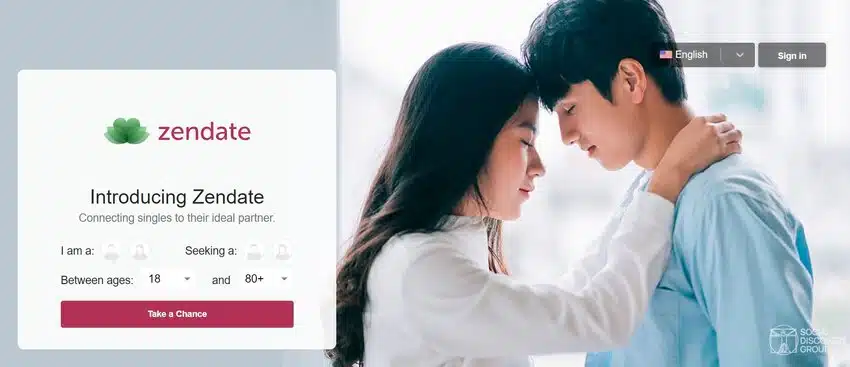 As a dating blogger, I understand the importance of knowing the platform's ownership. The Terms and Conditions state that Hazelpro Limited, registered in Cyprus, is the entity behind ZenDate.com. However, the registration email mentions SOL Networks Limited as the service provider, which can create confusion regarding the responsible party.
Operator not recommended / blacklisted
After taking a closer look at all the features, external customer reviews, reputation and costs of this dating site, we came to conclusion that the operator does not offer untrustworthy services. It's unlikely you'll find any real dates here.
Is ZenDate A Good Choice? Pros & Cons
When considering whether ZenDate.com is a good choice, it's important to weigh the pros and cons. Here are some potential advantages and disadvantages to help you make a decision:
How To Sign Up at ZenDate.com
Signing up for ZenDate.com is straightforward. You have the option to use your Google account for a quicker registration process. You can sign up directly on the website or download the app from various app stores.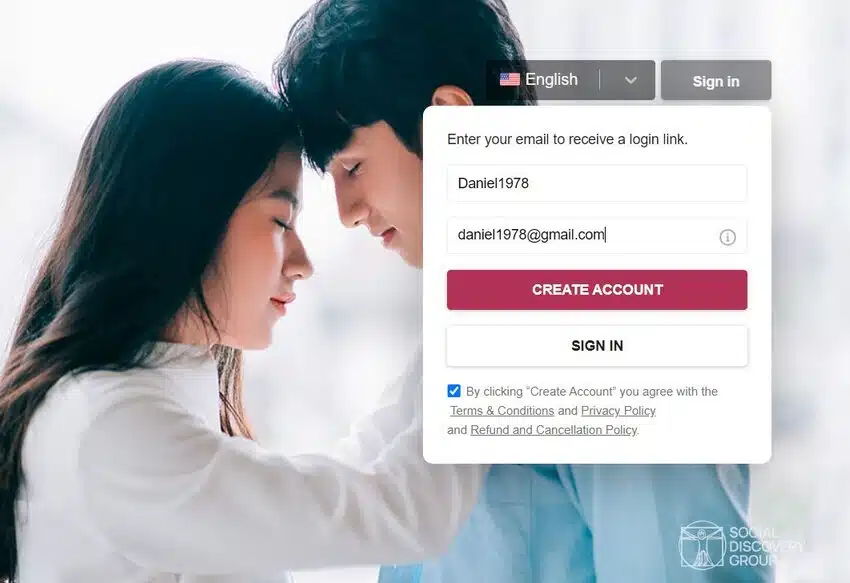 The registration form requires a valid email, age, gender, and a photo. The final step involves email validation. You need to go to the link provided in the email.
How Does The Site Exactly Work?
Here we go through the features of ZenDate.com.
Let's take a look at the user profile settings.
After signing up, you will be offered to "Mingle". This involves writing a message that will be sent to your best matches to initiate a conversation as soon as possible.
There are thousands of profiles on ZenDate.com. If you want to narrow down your search, you can use general filters such as age, gender, location, and the availability of video chat. There are also additional filters related to personal information and interests of the person.
From time to time, you will receive invitations to video chat, even if your profile is almost empty.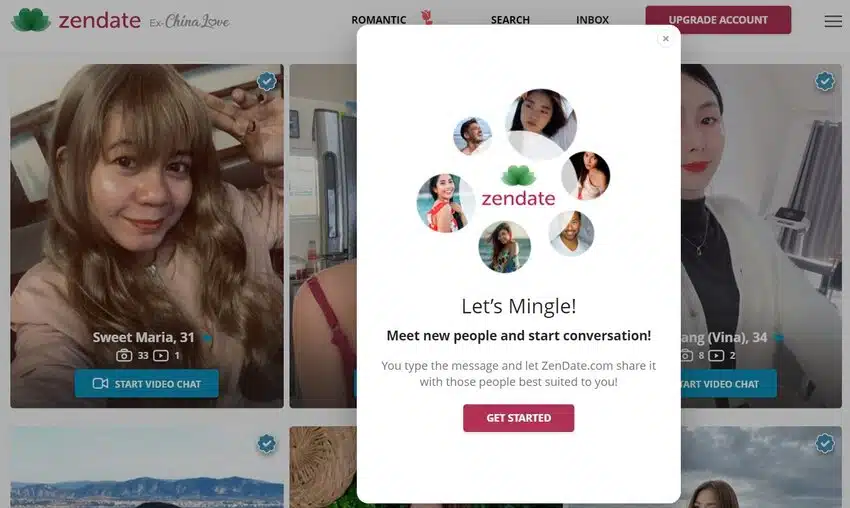 Another noteworthy feature is the "Presents" option. You can "Delight your match" with a present from their "Wish list," or you can choose from four other categories: 
The prices range from 59 Credits for a set of macarons to 4280 Credits for an iPhone 11. It's important to pay attention to the notice that actual presents may vary. However, there are doubts about the authenticity of these presents, as it may give the impression of simply taking money from customers.
For communication, you have the option to use
Can I Use ZenDate.com for Free?
There are several options on ZenDate.com which you can access free of charge. 
Every member has the opportunity to qualify for free membership. To be eligible, you must have a paid membership for a minimum of 3 months. Additionally, you are required to complete the free membership application form.
Before filling out the application form, it is recommended to have a photo of your ID document and a video of yourself prepared, as this information will be requested during the process. The Verification Team takes approximately two weeks to review each Free Membership application form.
How Much Does ZenDate.com Cost?
I think you are eager to know how much it costs to use ZenDate.com. 
For the first month you receive a discount of 60% and should pay 19,99 USD. Starting from the second month, you have the option to choose from three subscription types based on the quantity of Credits you wish to receive. You can also purchase additional Credits.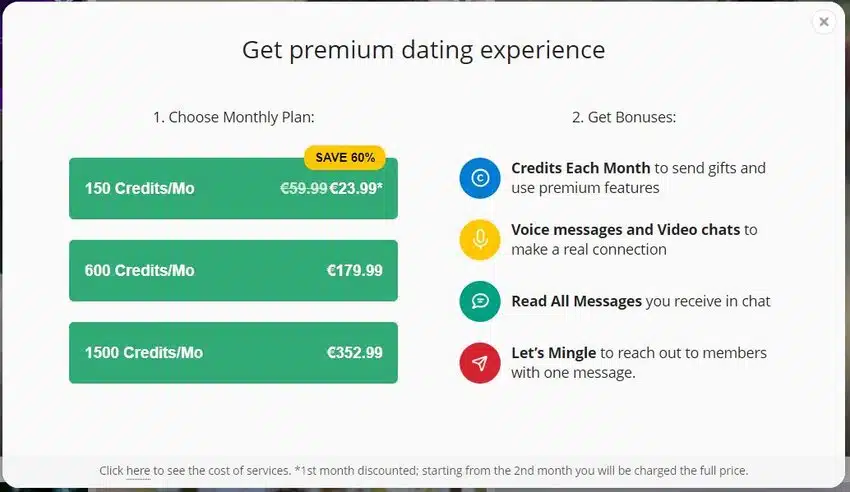 Credit Packages Price in USD
The accepted payment method on ZenDate.com is limited to credit or debit card transactions.
Asian Dating Advice & Tips
Users Profiles Quality In Our ZenDate.com Review
One of the crucial aspects to consider in dating site reviews is the evaluation of female profiles. At ZenDate.com, the majority of female profiles appear to belong to Asian women. These profiles typically feature professionally taken photos showcasing attractive and well-groomed women.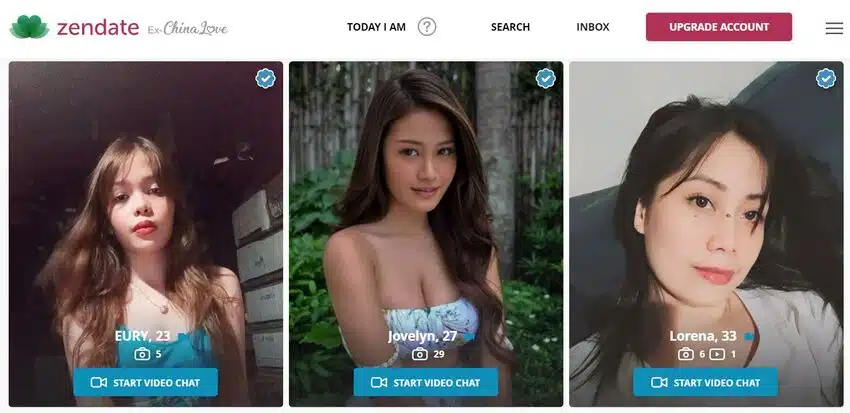 The profiles usually include a standard ten-point questionnaire with details about education, occupation, appearance, and more. Additionally, there are sections for "My interests" and "I'm looking for." However, the brief descriptions of females give the impression that they may not have been written by the individuals themselves.
It's important to note that all profiles mention that the female is curated by the platform's partner and uses the website for free. This raises concerns about the authenticity of the profiles, as it suggests that they could be fake.
Website Design & Usability
ZenDate.com is a modern and technologically advanced platform that utilizes various tools to help you find matches. With access to thousands of profiles worldwide, including users from countries like the USA, UK, Canada, and more, you can easily search for potential partners. 
Additionally, you have the option to filter your searches based on age range and gender preferences, ensuring that you find someone who fits your criteria.
After discovering potential dates you can start conversations. The platform enables its members to engage in real-time messaging and exchange photos and videos with one another.
Is The Site Really Safe & Legit?
As a dating expert, after carefully examining all the features of ZenDate.com and analyzing numerous reviews, I would conclude that the platform does not appear to be safe and legit.
Customers Reviews at Trustpilot
ZenDate.com has received a low rating of 1.3 stars on Trustpilot, with all 48 reviews being negative. Customers strongly believe that the platform is a scam and caution others against falling into its trap.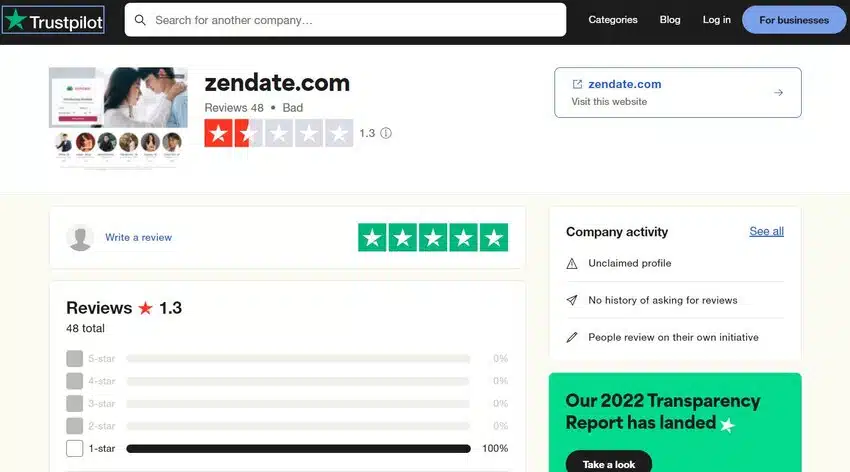 Our Review Verdict: NOT Recommended
We attempted to conduct a thorough investigation and provide a detailed overview of ZenDate.com's services and functionality. 
Despite the platform's use of advanced technologies and modern features and design, we found that it is a deceptive site. Its main purpose appears to be encouraging users to spend significant amounts of money on communication and virtual, and possibly even real, gifts. However, we have doubts about the authenticity of these gifts.
The registration process is straightforward, but once you verify your email, you might be signed up for numerous similar platforms, making it extremely difficult to unsubscribe.
Customer experiences have been largely negative, further reinforcing our impression of this platform.
Based on our findings, we strongly advise you to avoid ZenDate.com!
You want to learn how to find an amazing Asian woman and have unforgetable international dating adventures but don't guess where to start. Don't worry, we can help! ☝️
Ask Krystyna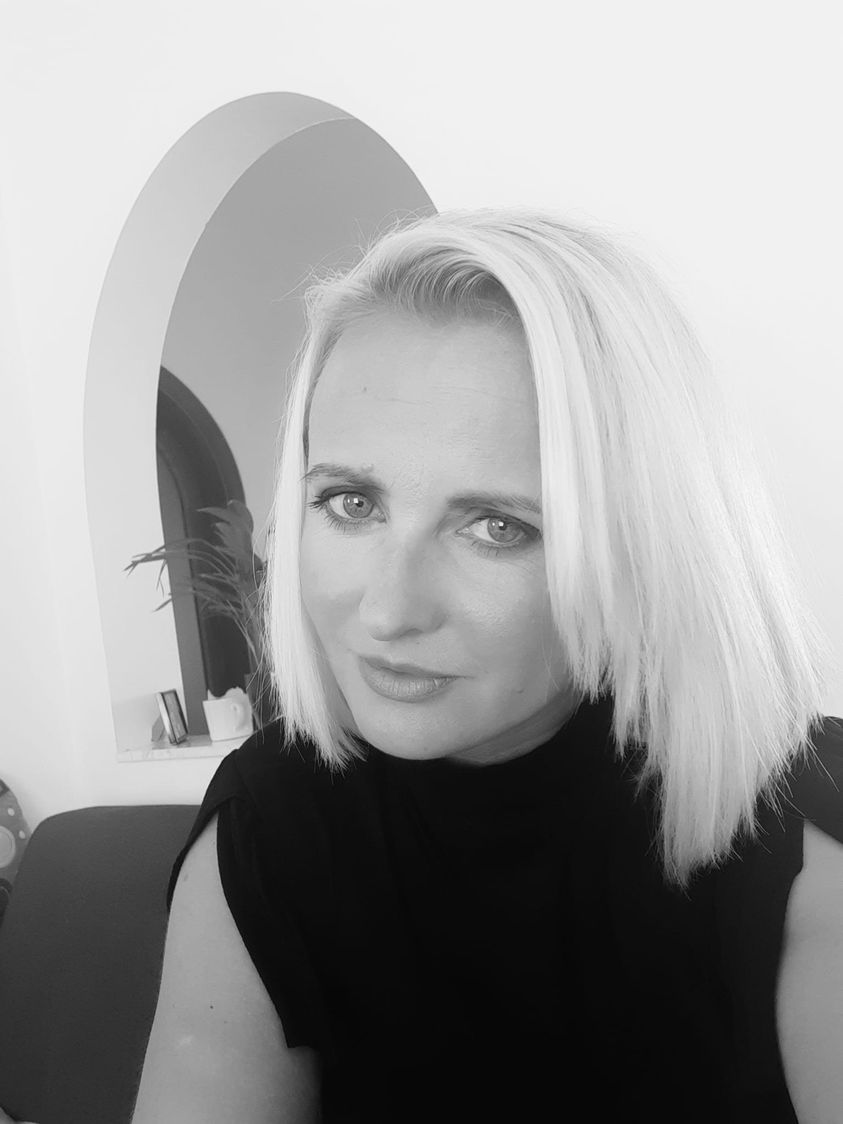 Hey there! 🙂 Krystyna here. Welcome to Asian Dating Journal!
Writing on International dating, romance scams and relationships so you don't have to feel alone on your Asian / foreign dating journey.
Krystyna is a dating blogger and coach that focuses on helping Western men to connect with foreign women. In her guides, she speaks from her own experiences and gives field-tested tips & hacks.
Need dating coaching? Check here: www.krioda.com