With the growing popularity of online dating, many sites with dubious reputations have appeared on the scene. Today we will examine Ukrainian dating sites and give you a brief description of five legitimate ones from our perspective. 
First, we will introduce you to our principles for choosing legitimate Ukrainian dating sites. Then, after reviewing the dating platforms, we will examine the influence of the war on the reality of Ukrainian dating. 
Finally, we will analyse the risks of being scammed on Ukrainian dating sites and advise you on how to protect yourself from scammers.
Reasons Why You Can Trust Krystyna
Our Priorities When Choosing Legit Ukrainian Dating Sites
As an experienced reviewer of dating websites, I stick to these basic principles when checking out Ukrainian dating sites (read also: TOP Mail Order Bride Sites: Our Guide).
These guidelines help me get a good overall picture of the site's features and how easy it is to use, so you can figure out if it's right for you:
The Most Reliable and Legitimate Ukrainian Dating Sites - According to Our Bloggers
Following our basic principles, I will provide you with a comprehensive overview to help you make an informed choice when choosing the Ukrainian dating site that suits you best.
GenerationLove.com is a popular dating service and online community with a strong presence in Eastern Europe. The platform is all about simplifying the process of finding love, offering a range of tools and options that foster strong connections and help build long-lasting relationships.
At GenerationLove.com you have access to a huge selection of profiles featuring singles from Ukraine and Eastern Europe. By using "search filters" you can refine your search to find a more compatible match. 
The platform also offers personalised search assistance through services such as "Matchmaking" and "Personal Meeting", which facilitate face-to-face meetings with Ukrainian women.
GenerationLove.com boasts a modern and user-friendly website design, although it does not offer mobile apps. The registration process is quick, taking just a few minutes, and navigating the platform is intuitive and straightforward.
Costs
GenerationLove.com does not provide paid membership options. Instead, they use an internal currency called "Coin" for purchasing various services on the platform.
Coin-Plans: 
30 coins cost 22.90 USD

70 coins cost 49.90 USD

160 coins cost 99.90 USD

320 coins cost 179.90 USD

500 coins cost 249.90 USD
Services cost
Send/Read Letter – From 5 Credits

Send a Compliment – From 6 Credits

Private attachment to a letter – From 5 Credits

Improve your profile ranking – 10 Credits

Watch videos from members – 9 Credits
Why we like the site
Verified identity confirmation

Well-established and well-designed interface

Effective anti-scam measures

Private and discreet payment options
BeHappy2Day.com is a place where you can discover love worldwide. It brings together people from various backgrounds, offering singles more opportunities to find meaningful and loving relationships.
BeHappy2Day.com offers a common pool of services for communication and showing interest. You can chat, send virtual gifts and use the "Mingle" feature. You can filter profiles by nationality and location along with other criteria.
Using BeHappy2Day.com is straightforward. The registration process is easy; you can even sign up through your Google account. The website works well on mobile devices, and it's simple to update your information. However, the profiles lack detail.
Costs
BeHappy2Day uses a credit-based payment system for its members.
Coin-Plans: 
20 Credits – 14.99 USD

160 Credits – 92.00 USD

1,000 Credits – 379.00 USD
Services cost
Correspondence (send/read letter – 10 Credits, attach photo – 15 Credits)

Live chat (1 Credit per minute, send/open picture 10 Credits)

Video chat (2 Credits per minute,

2-Way Live Video Chat – 5 Credits per minute

)

Virtual gifts/Virtual Cards (15 Credits)

Phone Calls (8 Credits per minute)

Lucky Mingle (10 Credits)
Why we like the site
Wide range of searching filters

Strong security measures

Helpful support
CuteOnly.com is a global dating platform dedicated to facilitating connections between women from the former Soviet Union and Western men for the purpose of forming meaningful relationships.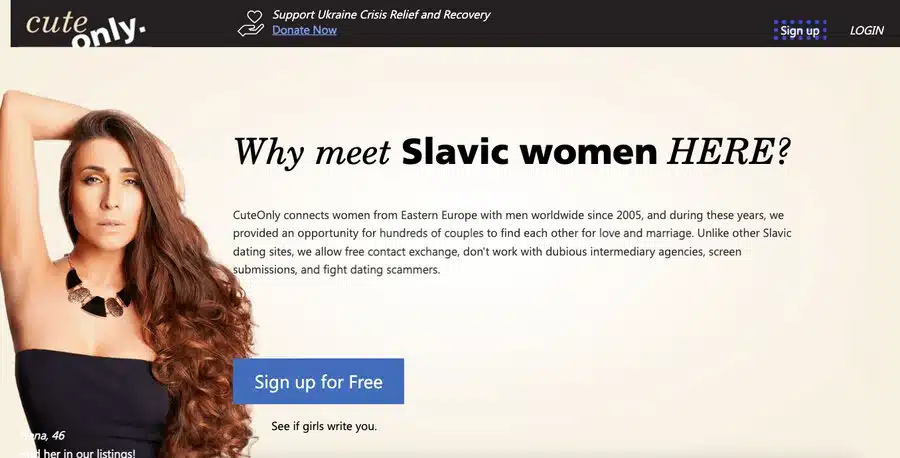 CuteOnly.com offers really great search options. Lots of different filters can help you to find your perfect match in a short period of time. Another service "Weekly Most Active Girls on Map" will help you to find a woman in your location.
The platform has a slightly dated but responsive design. It works well, displaying profiles clearly and without too many annoying ads.
Costs
Three paid membership plans are available
Six month for 137.94 USD (22.99 USD per month)

Three month for 95.97 USD (31.99 USD per month)

One month for 39.99 USD
Why we like the site
Female member identity verification

Reasonable prices, no hidden fees.

Strong measures to avoid scams.
Loveme.com (A Foreign Affair)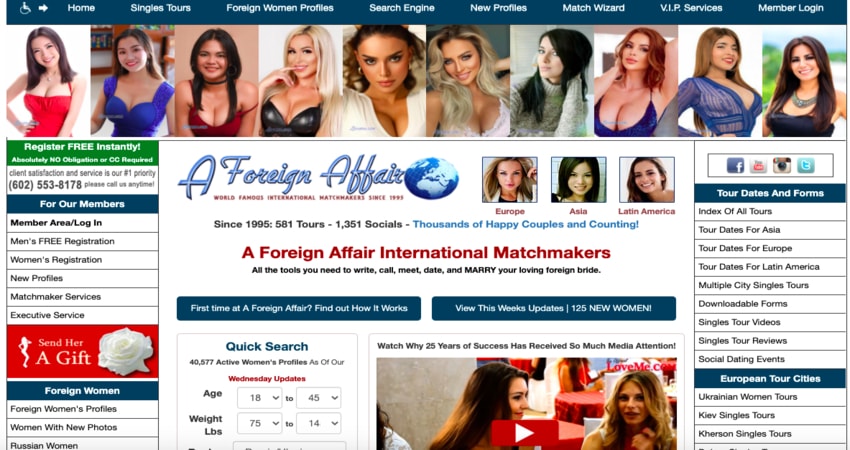 The services on Loveme.com are designed to help you find your soulmate. In addition to chats and virtual meetings, you will find a telephone translation service and the organisation of offline activities where singles can meet in person.
However, the design is old-fashioned and cluttered with promotions and ads, so it is not difficult to learn how to use. The profiles use outdated graphics, but are quite informative.
Costs
The Platinum Membership activation fee is 95 USD. From the second month, the cost is 29.95 USD per month.
With a paid membership you will receive discounts on the following services:
2.50 USD to send a message without translation (9.99 USD regular fee)

7.49 USD per page to send a message with translation services (9.99 USD regular fee)

3.99 USD per minute for three-way phone translation calls (5.99 USD regular fee)

5.95 USD to open a message

3.50 USD adding a photo to a letter
Why we like the site
Reliable and reputable platform

Personalised services

Organisation of various events for singles

Completely free for women
Established in 1998, Interkontakt.net has become a popular online dating site for meeting beautiful girls from Poland, Ukraine and Russia.
The website provides various services, such as advanced search tools, instant messaging, and a wide gallery of member profiles.
The website's design is basic and somewhat old-fashioned, but it gets the job done. Registering should take around five minutes, and you can also sign up using your Facebook account if you prefer.
Costs
Interkontakt.net offers different pricing plans for the Gold Membership. The one-month plan costs 17 USD with automatic renewal. Another option is the 21 USD per month plan. If you go for the three-month plan, it's 14 USD per month and you get one month for free. The best deal is the 12-month plan for 9 USD per month.
Why we like the site
Profile verification

Large number of profiles

Mobile app

Free translation of email and chat
Has the War Affected the Reality of Ukrainian Dating?
The war in Ukraine has had an impact on Ukrainian dating. Many women have left Ukraine and found refuge in other countries around the world. 
You might be interested in this article: How to Find a Girlfriend Of Your Dreams – Our Guide 2023
Ukrainian women have been given special privileges to travel and live abroad without needing visas, and they've received support from the governments of the countries hosting them. 
This has reduced the interest of some Ukrainian women in seeking foreign marriages. However, there is still some interest, as seen in the activity of Ukrainian women on dating sites.
Risks of Being Scammed on Ukrainian Dating Sites
While Ukrainian dating sites offer real opportunities to meet potential partners, they also carry risks, mainly related to online scams. These scams often involve individuals creating fake profiles in order to manipulate and deceive users for financial gain (read more: Asian romance scam: The basic information to know). 
Common scams include the "catfish" scam, where someone pretends to be someone they're not, and romance scams, where scammers build emotional connections to extract money.
To protect yourself, be cautious of overly attractive profiles, never send money to someone you haven't met in person, and use reputable dating sites with robust security measures.
Final words: Get Started Today Despite The Challenges
Ukrainian dating sites offer a unique opportunity to meet people from a culturally rich and vibrant country. Despite the challenges of war and potential scams, these platforms can really help you find meaningful relationships. 
By following safety measures, staying aware and choosing reputable sites, you can navigate the Ukrainian dating scene successfully. It's a chance to discover the warmth and charm of Ukrainian women and build relationships that transcend borders. 
So proceed with caution, but also with an open heart, because Ukrainian dating sites hold the promise of real love and connection.
You want to learn how to find an amazing Asian woman and have unforgetable international dating adventures but don't guess where to start. Don't worry, we can help! ☝️
Ask Krystyna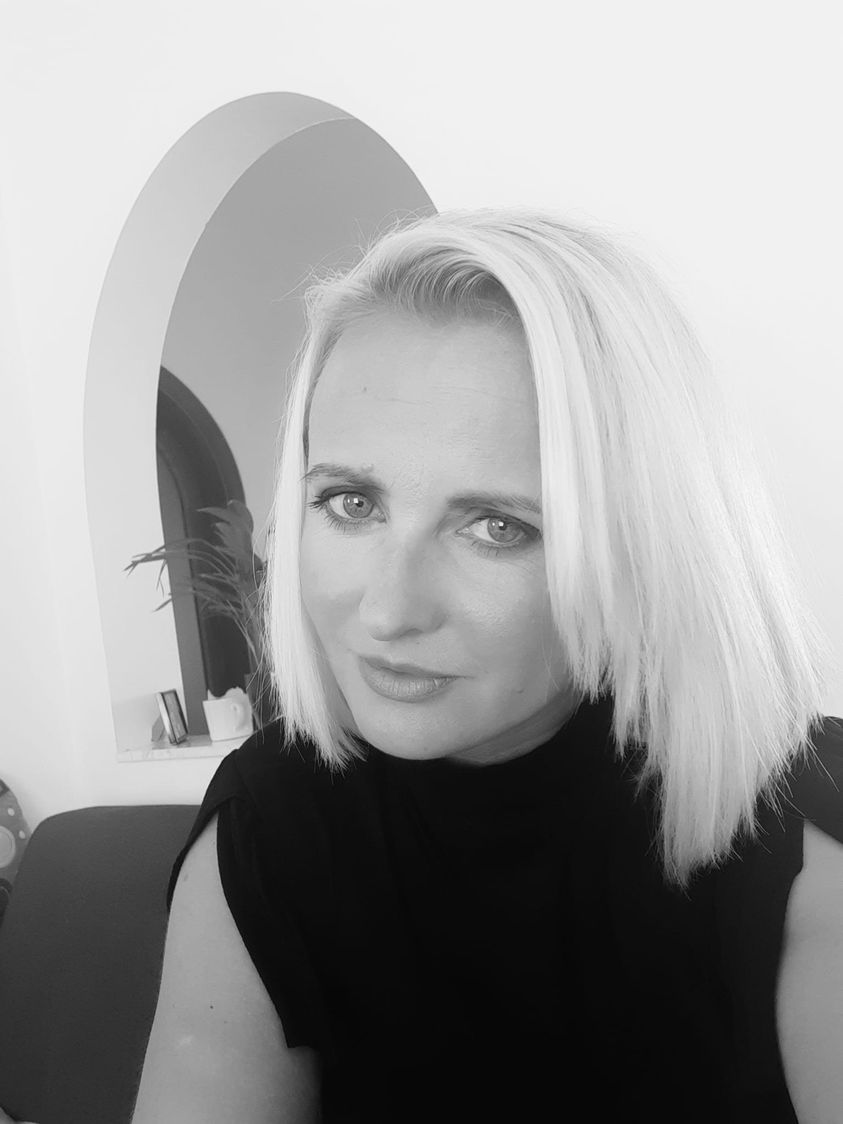 Hey there! 🙂 Krystyna here. Welcome to Asian Dating Journal!
Writing on International dating, romance scams and relationships so you don't have to feel alone on your Asian / foreign dating journey.
Krystyna is a dating blogger and coach that focuses on helping Western men to connect with foreign women. In her guides, she speaks from her own experiences and gives field-tested tips & hacks.
Need dating coaching? Check here: www.krioda.com