With the use of the internet, modern dating has evolved to be the ultimate way of meeting new people all over the world quite easily and at the tap of your phone. This article will give you more information and guidelines about the EasternHoneys dating site.
This review covers the features, services, usability, benefits, advantages, and all other vital details you should know about EasternHoneys.com.
Is this Asian online dating site right for you to find a match online? How much does EasternHoneys.com cost? Keep reading our EasternHoneys review and decide for yourself.
What is EasternHoneys.com?
We could not find any information about the company which runs EasternHoneys.
According to the website, EasternHoneys.com prides itself on being a legit organisation that provides dating services to its members. The dating platform specialises in facilitating single women from Eastern Countries.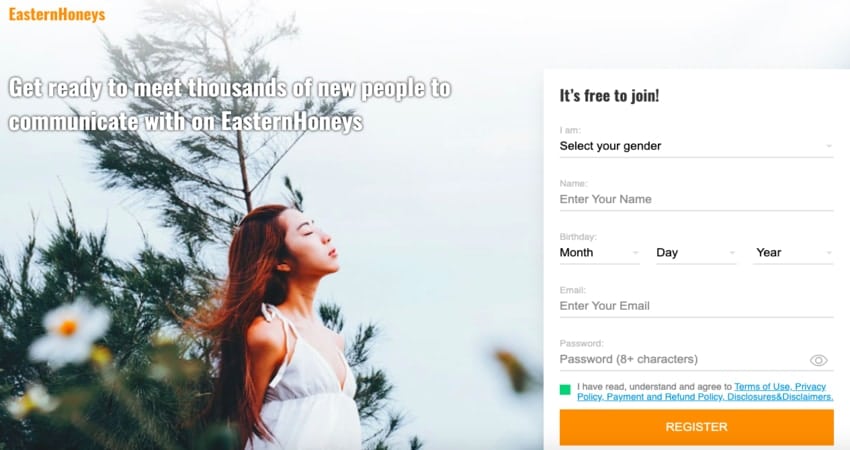 On the about us page, we can find information that It connects members to meet charismatic Asians that are open to relationships. The dating site specializes in gorgeous Asian beauties whose exotic beauty makes them quite desirable and charming to look at.
EasternHoneys.com has a clean website design that is easy to use and go through.
How do you set up your profile at EasternHoneys?
To register, you must be at least 18 years old. The majority of its users are of the age bracket of above 30 years. Registration is free and should only take you a few minutes to set up your profile.
To register as a member, you will need to enter your details that include the following:
Upon completion of registration, you are required to answer a couple of questionnaires about your preferences and yourself. To finish setting up your account, you can add pictures or videos, whichever will suit your liking.
Later on, you can easily check out other people's information and commence communicating with different users.
After successful registration, the site awards you with twenty credits. These credits that you can use to try out the various communication tools and services provided on-site.
Does EasternHoneys have a mobile app?
A mobile app for the dating site has not yet been developed. However, EasternHoneys is mobile-friendly as the mobile version of the site allows you to use its features via your mobile phone.
It can be accessed easily through the phone's internet settings making it easily available to the majority of its users who would prefer to use their mobile phones.
Usability and interface of the platform
You can easily navigate on the site even if you are a new member. The number of helpful articles provided on the site will make your experience more delightful and easy to follow.
You do not need to have prior experience in using the site as its design is manufactured to enable you to navigate easily through its features and services as well as access information on the site. The site is user-friendly and well equipped for use by all its members.
Profiles quality in our check
The profile allows you to place a grounding for your profile. You can always add, edit, change your picture, delete any information available on your description as many times as you want.
Profiles on the site seek serious long-term relationships and are not up for casual dating. Furthermore, it's interesting to know that the female members who are seeking to apply to the site go through a longer and stricter process.
The ladies tend to hire extra help from dating agencies to create interesting profiles. These, therefore, filter out those who are not seeking serious connections.
Member profiles also provide a lot of information as the users are required to highlight their statistics. These include information such as:
This way one gets to learn a lot about a member if you pay attention to the details given on each profile. This gives a sense of transparency to all the members. Members have enhanced trust when interacting with others registered on the platform.
The average age of members of EasternHoneys is between 25 and 30. The male percentage is 60% while the female gender is at least 40%. There are at least 18000 visits onto the platform per month with at least 2000 ladies actively online.
Free and fee-based services at EasternHoneys compared
The platform offers both free and paid services to its users. The services offered for the free option include:
The fee-based option includes the following services:
The EasternHoneys costs in an overview
EaternHoneys is relatively affordable and does not extort its members. For the best quality services, our advice to you is to pay for premium packages to the site. If you are to enjoy the detailed features that EasternHoneys provides, you require a special virtual currency.
The special virtual currency is offered in the premium platinum service. It will help you to acquire a variety of communication tools and services.
The credit-based packages allow you to decide on what to spend on and are the average to use in the market. It can go hand in hand with a variety of different budgets. It gives you the liberty to choose one that will suit your preference. These credit-based packages include:-
Customer reviews of EasternHoneys at Trustpilot
At TrustPilot, there are mixed reviews on EasternHoneys. One review indicates it is difficult to distinguish EasternHoneys from AsianMelodies. It goes further to suggest that there are AI-generated responses from some of the ladies' profiles.
Another review states frustrations of ladies' profiles only engaging in chats and not wanting to meet in real life. None of them responded to the emails after purchasing their contact information.
Furthermore, there is a review expressing how expensive purchasing contact information is. You cannot exchange personal information before making payments.
Besides these, other reviews state they have connected with like-minded people all over the world. A lady's review also indicates that she has not received any indecent proposals from men on the site. She has interesting conversations regularly. It also references that you connect to friends seeking connections in different areas of life.
TOP Alternatives to EasternHoneys
Here are the recommended alternatives to EasternHoneys.com.
LoveMe.com (A Foreign Affair)
If you decide to go with Loveme.com, you will be able to meet up with women, communicate and date them too. You can also view other people's information even if you haven't yet registered as a member.
You also save a reasonable amount of money once you choose to go with the platinum membership.
There is a one time activation fee of $95 and subsequently $29.95 a month. You will enjoy the following benefits and discounts:
Once you decide to choose AsianDating.com, you will meet with Asian singles from all over Asia and its environs. You are guaranteed to meet up with a huge database of men and women.
You get to enjoy the sophisticated search and message facilities combined with the latest technology to make your search worthwhile. You can contact customer support 24/7 whenever you have an issue that needs addressing.
The AsianDating.com cost of a membership plan is separated into the gold membership and platinum membership that is put into different timeliness of 12 months, 3 months, and 1 month respectively.
The related costs are as follows:
About the editor: Krystyna has published over 500 articles related to international dating in English and German. In her regularly updated blog posts, Krystyna shows a good eye for online dating topics, romance scams and cross-cultural relationships.
As the leading International Dating Expert and Dating Coach Krystyna is involved in a wide variety of different areas, such as personal dating coaching, online dating and matchmaking.
Need dating coaching? Check here: www.krioda.com