DateInAsia is an online dating site that connects you to Asian people of all walks of life. In this dating site review you will find the features, services, usability, benefits, advantages, and all other vital details you should know about DateInAsia.com.
Is this Asian dating site right for you to find a match online? How much does DateInAsia.com cost? Keep reading our DateInAsia review and decide for yourself.
Reasons Why You Can Trust Krystyna
DateInAsia Review - The Introduction
Established in 2006, DateInAsia.com is a dating site you can use to connect with Asian women.
While it is primarily for people of Asian descent, the free site also allows you to meet clients from other nationalities and ethnicities.
The platform is owned and managed by a company located in Guangzhou, China. However, any other information about the ownership is hidden.
Steps for Setting Up Your Profile at DateInAsia
When you sign up and log into your account, you can immediately create your profile and upload photos. You don't have to work on a draft anymore.
Next, you should introduce yourself to your audience. This is where you set the bar on how people can approach you. You can state your username online, link to your Facebook page and add any other social media accounts that are relevant.
You're free to choose your username but make sure it is not offensive in any way given the nature of the site.
Most people have a hard time describing themselves. However, you can easily convey yourself by creating your tagline for the site. It is where you engage your audience and let them know who you are as a person. You can write anything here, but it should be something that describes you best at this point.
Once you have completed the previous steps, the next thing you should do is relax and wait for your potential suitors to come to you. Once they are directed to your profile, they will be directed further to the messages section of your account, where they can communicate with you.
Does DateInAsia have a mobile app?
Yes, the platform had a mobile app. Date in Asia offers many features such as chat rooms, tag systems for your profile, and verified profiles. The app also has video profiles. This is a video-based social app.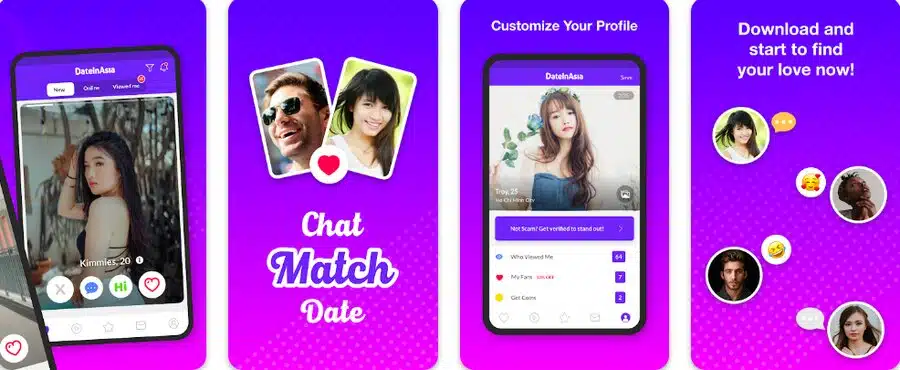 What does the DateInAsia dating app offer?
What countries are using the Date in Asia apps?
Over 10,000 dating sites exist globally
Over 30% of women have sex on the first date after meeting online
10% of online daters quit after three months
Usability and Interface of the Platform
DateInAsia has a web-based platform. It is technically accessible via your mobile device, and all you need is an internet connection and a browser.
The site's interface is well designed, and it doesn't have any bugs or glitches that would inhibit its performance. The site is clean and intuitive, making it easy to use.
The platform's design allows for quick access to all buttons, lists, photos, and other important pages that you would need to manage your account comfortably.
User Quality in Our Check
DateInAsia boasts 1.8 million members. The majority of these are females who are looking for dates, romance and possible relationships.
As mentioned earlier, the platform is targeted towards Asians but it allows any other person or ethnicity to sign up as well. This translates into wider access to people you can meet using your account here.
The overall gender balance at DateinAsia is 35 percent male and 65 percent women. Every week, the site attracts around 10000 new members.
DateInAsia is entirely free. You don't have to pay anything to use the site. Here are the free services you can enjoy.
As a free member, you can send messages to other members of the site. You can message anyone whom you find interesting or who seems like a good match for you.
You can like and follow other members and be followed by other people on the site. You also have to like and watch profiles to ensure you get all updates about your match's activity.
As a member, you should look out for attractive profiles to decide which ones you would like to follow and engage with. You can use filters and other sorting tools to find profiles that pique your interest.
DateInAsia lets you join chat rooms. This feature is open to all members, and it allows for effective communication between people on the same platform and those looking for a partner in specific regions. You can use this feature to communicate with like-minded individuals no matter where they are or what time zone they might be in.
This feature gives you a chance to play games with other members on the platform. You can engage in this feature and enjoy elements of fun and adventure when using the site.
DateInAsia lets you save profiles to your 'pinned' list so that you can always come back and view them. This feature is similar to the 'like' button on Facebook or Twitter, where users can follow each other or show support. You can use this feature to engage with people who interest you without having to contact them directly.
This will allow you to view all connections and visitors who have access to your profile. Most people use this list to check out people whom you want to follow or engage with. You can also remove unwanted profile viewers from the list without having to block them.
You can change your account's colour theme. There are nine themes to choose from, and you can mix and match these colours to find the one that best suits you.
As a member, you can earn badges when you contribute to the community. You can receive awards and improve your ranking on the site by sharing photos or articles that other members might find helpful.
The platform allows people from all demographics to engage with each other. The users of this platform are open to individuals of all ages, races, cultures, and families.
This feature enables you to view your 48-hour stats. You can check out how many people viewed or liked your profile, photos and other details related to your activity on the platform.
To summarize:
The free platform is very comprehensive, and you can use all the features without spending a penny.
Reviews of DateInAsia at TrustPilot & SiteJabber
DateInAsia has received mixed reviews at TrustPilot, on average very negative. As you can see, around 40% of people gave DateInAsia 5 stars, while 60% rated it with 1 star. One user complained that his account was hacked due to the platform's lack of adequate security features.
The DateInAsia website states that they focus on providing services to Asian expats, which could explain the negative reviews from people who are not members of this community.
Here are some reviews on TrustPilot.
"DateInAsia is a great dating platform if you're looking for someone in Asia. The site can also be used by people who are interested in connecting with Asian expats. This will allow you to meet new international friends and maybe even find the love of your life thanks to this popular online dating website."
"DateInAsia is a free dating website that allows users to create profiles and add other members to their list of favourites. This will give you the chance to communicate with compatible individuals without having to spend any money. You can use this site for casual meetups or even serious relationships if you dare!"
"DateInAsia is a scam. People who are unverified or unconnected cannot send messages. Also, the site has very little security, and you don't know for sure if people are telling the truth about their identities. There is nothing personal on this platform, but I wouldn't recommend it to anyone looking for a relationship online."
51% of people on online dating sites are already in a relationship (11% are already married)
57% of people have used online dating platforms in the last five years
40% of women online have troublesome interactions on online dating platforms
"The number of scammers you have to sift through is immense. Chances of meeting a genuine woman are extremely low. It's better to pay but get guaranteed results. J4Bride.com was the site that worked like a charm for me. Within three weeks of joining I went on a date. Then another date. Then one more. The 4th date was the luckiest one – I met my girlfriend! Just having an offline date would have been an incredible success on DateInAsia. I should have stopped wasting my time and money on DateInAsia a long time ago!"
"The worst experience ever when it comes to dating sites. My account keeps getting closed for NO REASON. So frustrating!"
At sitejabber.com, a leading destination for customer ratings and reviews of businesses, DateInAsia has a consumer rating of 1.36 stars from 152 reviews indicating that most customers are generally dissatisfied with their purchases. Consumers complaining about DateInAsia most frequently mention new accounts, phone numbers and fake profiles problems.
TOP Alternatives to DateInAsia
As we do not recommend DateInAsia because it has a lot of adjustments to make. You can check out our list of top alternatives below.
LoveMe.com (A Foreign Affair)
Loveme.com is a dating & matchmaking website that allows users to create profiles and add other members to their list of favourites. This will give you the chance to communicate with women from Asia (Thailand, China and the Philippines).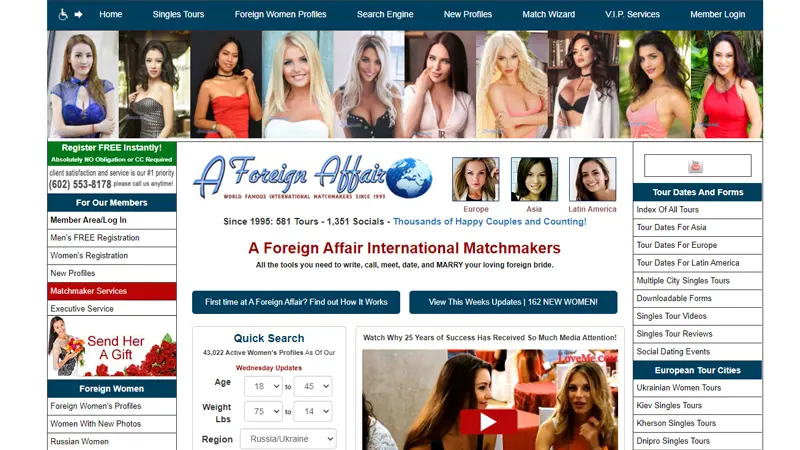 You can use this site for serious relationships. The agency also offers romantic tours to Asia to meet women in person.
When it comes to payments, you have to activate a platinum membership plan at a one-time fee of $95. Afterwards, you will have to pay a renewal fee of $29.95 per month. Some of the benefits you will get as a platinum member include:
Other fees you have to pay on the site include:
AsianDating.com is an international dating website for single women and men in Asia. This website has over 2 million members, which means that tons of people want to connect with you. It is a reliable dating service to begin your quest for love.
AsianDating.com is most certainly a legit dating website. With over 15 years of activity and over 4.5 million members trusting the site, there is no doubt that it is legitimate.
The site is developed to give members a reliable platform for singles looking for Asian or Non-Asian partners to date worldwide.
The site has two different membership plans; gold and platinum.
The last update was performed on May 24, 2023.
You want to learn how to find an amazing Asian woman and have unforgetable international dating adventures but don't guess where to start. Don't worry, we can help! ☝️
Ask Krystyna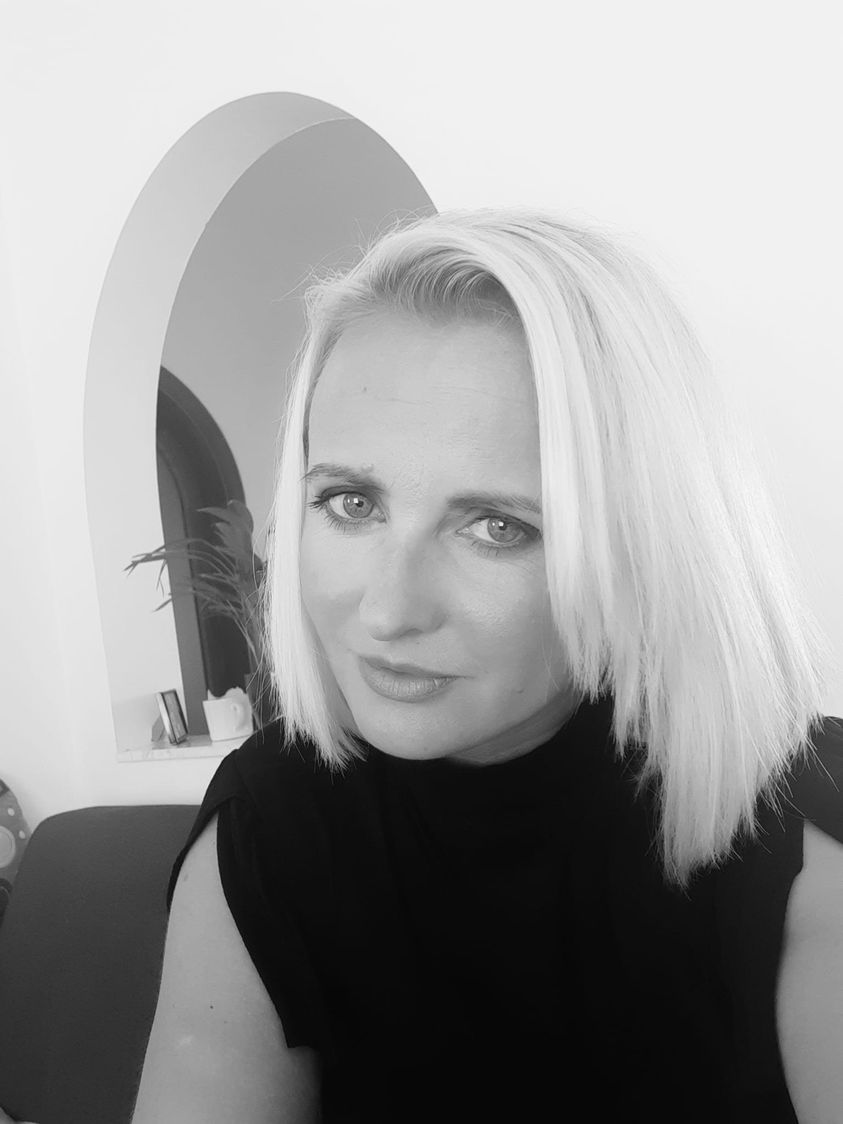 Hey there! 🙂 Krystyna here. Welcome to Asian Dating Journal!
Writing on International dating, romance scams and relationships so you don't have to feel alone on your Asian / foreign dating journey.
Krystyna is a dating blogger and coach that focuses on helping Western men to connect with foreign women. In her guides, she speaks from her own experiences and gives field-tested tips & hacks.
Need dating coaching? Check here: www.krioda.com