Looking for love has proven tough even with the platforms available for this purpose, like online dating sites and social media platforms.
However, with technological advancements, connecting to other people can be more accessible on platforms like ChristianFilipina.com due to convenience.
ChristianFilipina is a fast-growing dating site as more people are joining in. This article sheds some light on some vital information about ChristianFilipina that you may need to know before joining.
Is this Filipino dating site right for you to find a match online? How much does the service cost? Keep reading our ChristianFilipina review and decide for yourself.
Reasons Why You Can Trust Krystyna
ChristianFilipina.com - briefly about the company
ChristianFilipina.com is an online dating site that helps Christian singles to forge meaningful and strong relationships through their trustworthy interface.
The site, which was founded in 2009 by Peter and Milyn Christopher, is a member of the International Alliance of Honest Dating Sites.
Much like what I was looking for in a dating site, it ensures truthfulness and honesty from its members by counterchecking intentions to ensure security.
ChristianFilipina.com was meant for Filipina singles but has extended its services worldwide and is now accessible by different people from different countries.
Pros and Cons of ChristianFilipina
How good is the Christian Filipina Profile Quality & Authenticity?
No Christian dating app can guarantee you the quality and authenticity that ChristianFilipina.com can. It is no wonder it was named the best niche dating site in 2014 at the Golden Heart Consumer's Choice Awards.
ChristianFilipina dating app is designed for men and women who fall within the age bracket of 18 to 65 years. It believes that this age group is the most vulnerable when finding love and a life partner.
However, those who make up the better part of the site are older adults aged 55 years going upwards. Unlike popular belief that women are the ones who make the better part of a dating site, the site has a higher percentage of its members being male.
ChristianFilipina.com was primarily established to help the Philippines find love. However, the site has grown to include English-speaking countries, including the USA, Australia, and Canada.
With more than 1.6 million users globally, the site has round-to-clock operations since users are in different times and log into the area during other times. The site's popularity makes it experience an increase in the number of new registrations every week.
The Registration Process at ChristianFilipina
The registration process for ChristinaFilipina.com is pretty straightforward. Interestingly, the site does not need users to pay for the services unless they need a platinum service.
Therefore, all that members need to do is create a free account and provide all the required information. The information required for online registration includes your user name, email, and password.
If you want a profile that is easily visible to those with similar interests, you should provide as much information as possible. This is because people will look for their best matches using keywords like age, skin colour, hair colour, body size, country of origin, and many more, depending on their taste.
Below are the steps that you should follow to build your profile at ChristianFilipina.
Does ChristianFilipina Have a Mobile App?
Businesses have now noticed the benefit of having mobile-friendly apps since most people consider them convenient, thanks to their portability.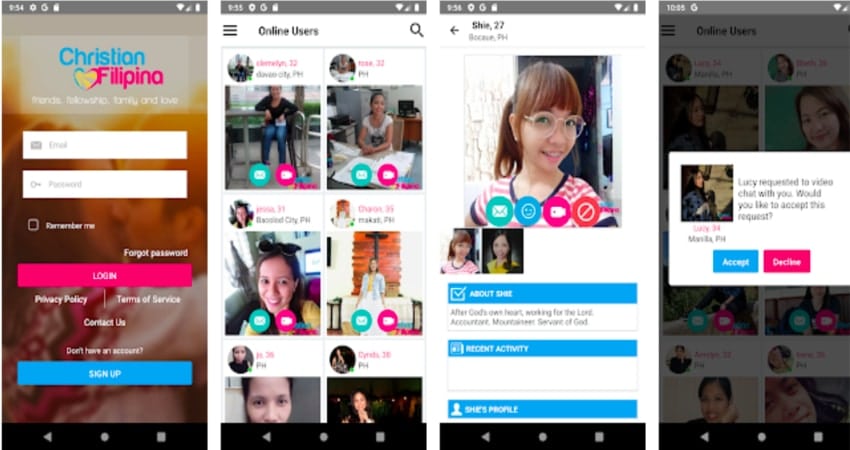 Dating sites, including Christian Filipina, have also started providing mobile apps to enable uninterrupted communications and searches by members
New and existing members at ChristianFilipina can download their mobile app from the app store or Google play free of charge. This high-ranking app is one of the best, hence quite efficient to users.
Design and Usability of ChristianFilipina.com
ChristianFilipina.com is designed to create different features that members can use to find their perfect match online.
One of the things that the site boasts is the added security features. Norton, the site's security feature, guarantees maximum security by preventing identity theft and detecting any malware-related problems in real-time.
ChristianFilipina also has a payment feature that is quite convenient and offers different payment options, including PayPal and debit or credit card use.
In terms of usability, members first need to register to be vetted as genuine in their quest and provide descriptions of the partners they need. Also, members can have access to different features, depending on their payment plan if they are subscribed to a premium option plan.
To further ensure that members' safety is guaranteed, the site encourages them to be cautious. They can achieve this by insisting on video chats with other users and avoiding sending their private details to strangers.
ChristianFilipina.com Viewing & Communication Features
When you create a free account with ChristianFilipina.com, you are limited on what you can and cannot do on the website. As a new member with a free account, you can have access to the user profile of other users and view a list of members who viewed your profile. The viewing feature for this site is quite exceptional.
The viewing feature of the site displays the users' profiles in a grid-style arrangement. The arrangement has three pictures of the members, their age, location, and present and past relationship status. You, therefore, have some basic information regarding each member before initiating a conversation.
There is a chat platform on the user's dashboard where members can access to send or receive messages from other users. The live chat rooms allow the users to have real-time information from other users. Besides, members also have a chance of experiencing a personal interaction with other users by clicking onto the video chat platform.
As such, you can tell the current physical features of the members you like. The video chats are also a great way for the users to feel safe as it eliminates scam users.
Free and Fee-Based Services at ChristianFilipina.com
I found Christina Filipina.com designed in a way that it has free and paid services for the users.
The free services included:
Our advice to you is that you opt for fee-based services considering what amazing features you can access.
The fee-based services included:
Costs of Premium Memberships in an Overview
At ChristianFilipina.com, users can enjoy some services for free, but it is advisable to upgrade to their paid subscription if you want to find your Filipina lover with ease.
The services offered from the free user account are restricted to the number of matches they can access, but premium users can enjoy uninterrupted use of the platform and unlock more features that will help them find potential matches.
Did you know?
ChristianFilipina.com is among the few faith-based dating sites with three subscription plans.
The premium plans include:
The site's unlimited package is again divided into two for different users. Some prefer playing on an annual basis, while others prefer the monthly package. The annual package costs $997, and the monthly plan $83.08 every month.
Members who want to unlock more features on the site can go for the platinum package. The platinum package also comes in two subscriptions: the monthly plan and the six month's plan. A monthly platinum subscription will cost you $99.50 and $597 for the half-year subscription.
The platform's ultimate subscription plan is the Gold plan. The package unlocks unlimited features to our users, and it is what I would recommend for anyone who is genuinely looking for a ChristianFilipina lover.
Although quite costly compared to the previous two, you will enjoy additional features, top-class matching, a priority of your profile in search results, all forms of messaging and adds-free usage.
Like the other two, the gold package also has two subscription packages: a three-month plan that goes for $247 and the monthly plan at $82.33. You can choose any plan that you find best, depending on your needs and budget.
What Payment Options Does ChristianFilipina Accept?
Members of CristianFilipina's payment plans enjoy an array of payment options. If you are a member and decide to opt for the premium membership package, the site allows users to pay using PayPal, credit cards and debit cards. As such, members are not restricted to a particular payment option.
Is ChristianFilipina a Real Dating Site?
ChristianFilipina is as accurate as it can get. Besides, the site has several best dating site awards that prove its commitment to providing high-quality matching services. Some of the awards include;
The site also boasts an A+ in the Accredited Business and a Seal of Approval.
ChristianFilipina is bent on upholding integrity, and they have achieved this by having every new member vetted and followed up on by the security team before they can be fully absorbed into the site. The procedure ensures that the members are genuine with their quest to look for Christian singles and build relationships.
For this reason, ChristianFilipina remains a reputable dating site with Christian singles who are compatible with other Christian singles sharing the same values and with the same interest.
Anti-Scam Policy at Christian Filipina in Our Check
It is almost impossible to find a place with no scammers. Scammers will always disguise themselves in different ways and have access to online dating sites with the motive of playing with other users' emotions and even defrauding them.
It is for this reason that ChristianFilipina.com has incorporated an anti-scam policy.
To achieve its top-class user security, the platform has incorporated a one-of-a-kind security feature that prevents malware in any user device. This technology protects users from scammers looking for an opportunity to defraud other users.
Thanks to this technology, any scammer that may want to infiltrate the dating site is shut out, and members' safety is guaranteed.
Our Conclusion: Is ChristianFilipina a Scam or Not?
Due to the high number of online dating sites on the internet, many people have fallen victim to fake sites.
These sites take the design of dating sites to fool users and take their money once registered. However, the above information clearly shows that ChristianFilipina is a genuine dating site. I was referred by a friend to ChristinaFilipina.com.
On the site, I got to meet and video chat with real people. I never felt at any point that I was being catfished. As such, the site is worth giving a short because from my experience, it has genuine services. Besides, its support staff puts the clients' needs first.
Therefore, if you meet someone and you are still not sure of the kind of person they are, they can intervene by interviewing your potential partner to be sure of their intentions.
For the best online dating experience, you can consider registering at Christianfilipina.com and upgrading to any of their paid plans for unlimited services.
About the editor: Krystyna has published over 500 articles related to international dating in English and German. In her regularly updated blog posts, Krystyna shows a good eye for online dating topics, romance scams and cross-cultural relationships.
As the leading International Dating Expert and Dating Coach Krystyna is involved in a wide variety of different areas, such as personal dating coaching, online dating and matchmaking.
Need dating coaching? Check here: www.krioda.com