Dating is a new way of meeting people these days. That is why dating sites like Chinalove exist. ( Note: the site is now called ZenDate.com).
Initially, its founders created it to match Asians back in 1993 when they launched it. However, with time it gives an audience to everyone from all over.
This article is going to review and comment on the following properties of the site:
Profile quality.

Its cost.

Its usability and interface appearance.

The different membership types it offers.

Its reviews in reputable sites like Trustpilot.
Reasons Why You Can Trust Krystyna
ChinaLove.com - briefly about the company
ChinaLove is one of the dating sites companies that is supported and promoted by the Dating.com group in collaboration with SOL networks limited. The company was launched in 1993 with the main purpose of ensuring that single Chinese individuals can find love. ChinaLove  operates in 32 countries which are situated in Latin America, North America, Europe, and Asia
The company's mission statement indicates its clear desire to enable single people to interact and find true love.
To ensure the achievement of this vision, the company has made some strategic partnerships that enable it to avail the necessary infrastructure and technology. The company has gained valuable experience in its over 25 years in the dating space.
It has slowly gained popularity over the years and the company continues to gain sign-ups on its platform. The company's media contacts are by email, phone, and the company's website.
How do you set up your profile at ChinaLove?
Are you interested in setting up an account with ChinaLove dating site? Well, I am pleased to inform you that it is quite a simple process that you can either do it on their website, www.chinalove.com, or on their mobile app.
The mobile app is available on app stores. If you are using the website to access the platform, you browse the web for their site. On their site, click the sign-up button.
On the other hand, if you prefer using an app, access it on your mobile device by downloading it. Once it is installed, you can click the sign-up link. After that, you will provide all the required information during the registration process and make the payment if you wish to become a premium member.
It is essential to note that you must be over 18 years to set up a profile. In addition, you are required to maintain only one profile with the photos uploaded being accurate and not containing any other person other than you.
Does ChinaLove have a mobile app
The site has its mobile app which they have been updating over the years to keep it functional and competitive.
The mobile app has versions that are compatible with Android and iOS technologies. In addition to that, there is also a PC version that is compatible with windows 7, 8, and 10.
The mobile app has made the platform more accessible to various people around the world. It increases the variations in the profiles on ChinaLove.
Interesting to know
It is interesting to know that the web designers of ChinaLove.com made it easy and user-friendly.
Usability and interface of the platform
All the buttons and functionalities that a member needs are easily accessed and well displayed. The whole layout and user interface of the site are pretty, presentable, and attractive to the eye.
The designers of the app made sure that there are as little to no ad pop-ups as possible. In the case of message pop-ups, you are allowed to switch them on and off through the settings of your account. The usability and interface properties facilitate easier interactions with other members.
Free and fee-based services at ChinaLove compared
ChinaLove.com has both free and fee-based kinds of membership. When you choose to be a free member, expect to gain access to limited services. These include:-
To access some services like viewing all pictures and videos and using the video chat function amongst many others, you can choose to pay for the specific service since the platform has a per-action policy where members pay for only the specific services they want.
For paid membership one has access to numerous and quality services listed below:
Profiles quality in our check
ChinaLove.com has high profile quality considering the comprehensive personality questionnaire that one has to fill when joining the site. Upon joining, the platform requires a user to upload a profile picture.
Good to know: Out of all profiles on the site, 95% of them have profile photos with an average age of above 30 years old. The profiles are seeking valuable relationships and not casual dating.
Considering the presence of the site in 32 countries, it has a high visitation and sign-up activity of 10,000 users every week. The ChinaLove company has a particular emphasis on Europe, Asia, North America, and Latin America.
The company's model allows for both genders onto the platform as free and paid members. They can connect as well. In addition to that, the platform also boasts of having a user activity of over 4900 sign-ins in a day. ChinaLove insists on the free members to be active to interact on the platform.
The ChinaLove costs in an overview
As stated above, you can decide and choose the free membership. It limits you to a couple of functions. On the flip side, you can decide to go for a paid membership. It exposes you to numerous functionalities and services. It is why our advice to you is to enroll in a paid membership that has a pay-per-action policy.
The pay-per-action policy is beneficial as it means that the site you are on only charges you for services that you use. The site accepts payments that are made in credits. The credits are sold in three different packages as follows:
Once you pay for a specific package, the site deducts your credits once you use a charged service. The great news is that the charged services are relatively cheap. For example, basic chatting will cost 1 credit and video chatting will only cost you 6 credits.
It can be a challenge to narrow down on which paying scheme you should select. Well, our advice to you is to select the $ 299.99 package since the price per credit reduces the more credit you acquire.
Customer reviews of ChinaLove at Trustpilot
According to the Trust pilot review, page customers find ChinaLove to be unsatisfactory. It is because most of them have communicated that the partners they are chatting with normally disengage or refuse to exchange contacts even after a long period of communication. In addition, the site is costly compared with other dating sites.
Some have indicated that some members have even tried scamming them off money even after using a lot to subscribe to a paid membership to just chat with them.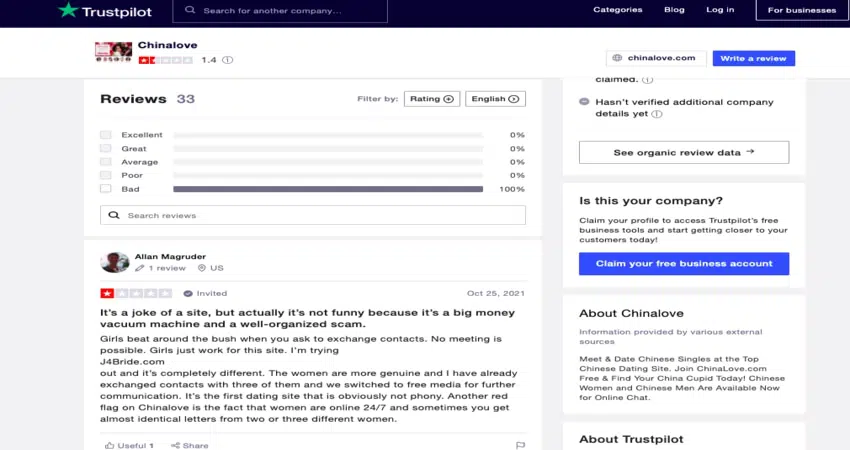 Besides that, 2 out of 32 reviews have stated that the privacy rule is not adhered to by the platform. The two reviews state that all the private information filled in the personality questionnaires was illegally shared with other dating sites and unknown subjects.
1 out of the 32 reviews expressed a positive view that not all profiles on the platform are after money. The review stated that some profiles on Chinalove were genuinely looking for love and had a specific preference for westerners.
Other customers stated that the support team of Chinalove does not respond to complaints by its members. These customers relayed that after some of them had encountered a negative experience they contacted the help center about the unfortunate incidents for which they never got the help they expected.
TOP Alternatives to ChinaLove
Here are the recommended alternatives to ChinaLove.com.
LoveMe.com (A Foreign Affair)
Just like how goods have substitutes, dating sites have alternatives. In the case of Loveme.com, it offers competitive services and prices compared to chinalove.com. The site's prices are quite cheap and affordable.
For the first month, one pays a membership fee of 95$ which will be followed by a 29.95$ payment every month afterwards.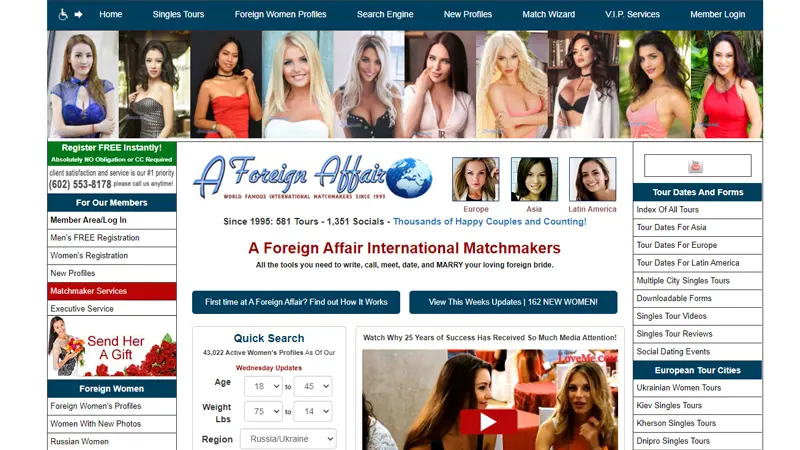 In terms of services the platform offers the following services:
Loveme.com organizes romantic tours all over the world. On these tours, the tour guests never do anything but enjoy the whole trip.
The site offers a variety of services ranging from the following:
The last update was performed on May 27, 2023.
You want to learn how to find an amazing Asian woman and have unforgetable international dating adventures but don't guess where to start. Don't worry, we can help! ☝️
Ask Krystyna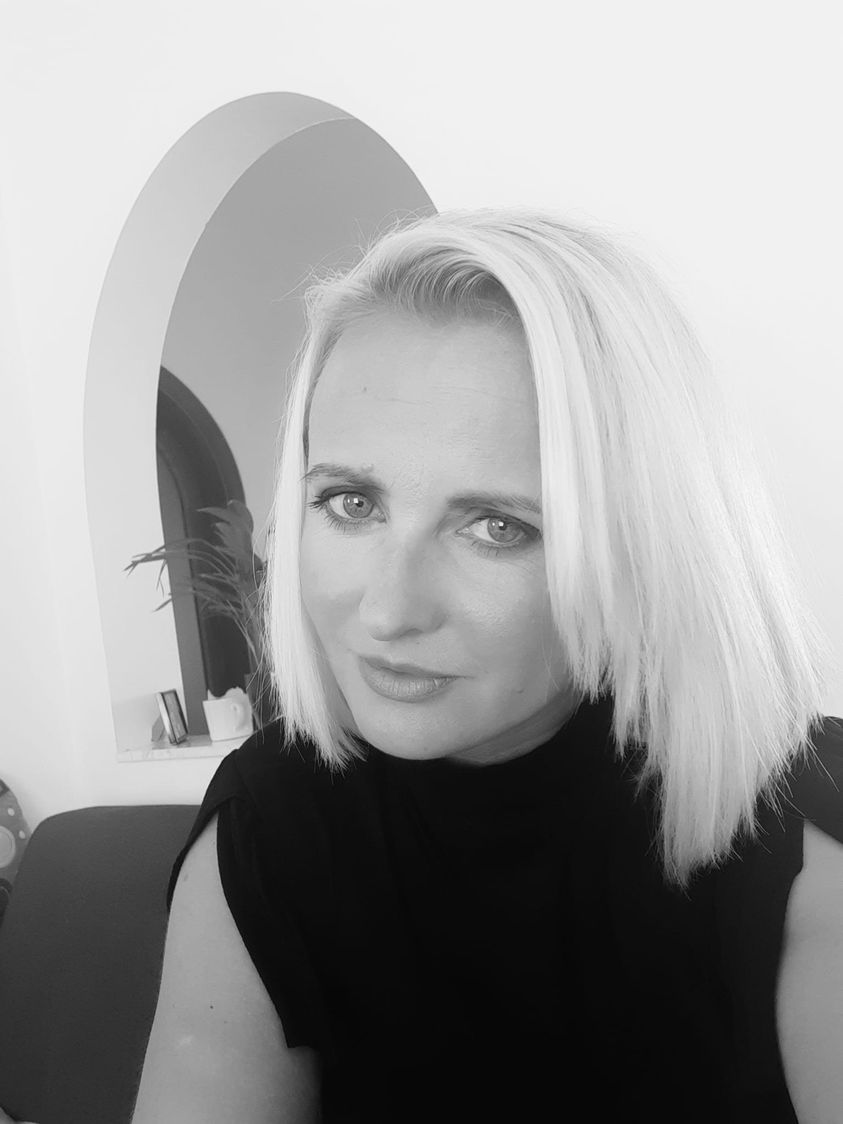 Hey there! 🙂 Krystyna here. Welcome to Asian Dating Journal!
Writing on International dating, romance scams and relationships so you don't have to feel alone on your Asian / foreign dating journey.
Krystyna is a dating blogger and coach that focuses on helping Western men to connect with foreign women. In her guides, she speaks from her own experiences and gives field-tested tips & hacks.
Need dating coaching? Check here: www.krioda.com