Are you ready to meet your Asian true love? Heard from you friends that the best way to meet your soulmate is via an international online dating site? There are many different Asian dating sites out there.
Have you considered AsianMelodies.com? 
Maybe the better question is – should you?
Not every online dating platform is ideal for your needs, nor is every dating tool legit or safe to use. There are many romance scams – individuals that try to con you out of your hard-earned money or steal your identity. These scam artists often prowl online dating sites like AsianMelodies. 
So should you sign up to AsianMelodies? Check out my detailed review of the AsianMelodies dating site and then you can decide for yourself.
(If you are in a hurry, my recommendation is to stay away from AsianMelodies.com, and rather try one of the dating platforms I do recommend.)
Reasons Why You Can Trust Krystyna
AsianMelodies - A Summary About the Service
AsianMelodies is an international dating tool that lets people from all over the world connect online. The company believes that distance isn't a factor if you are eager enough to find new connections and improve your social life.
Operator not recommended / blacklisted
After taking a closer look at all the features, external customer reviews, reputation and costs of this dating site, we came to conclusion that the operator does not offer untrustworthy services. It's unlikely you'll find any real dates here.
In essence, you can use the platform to connect with Asian beauties – you can be Asian yourself or from any other descent or nationality.
The dating tool has about 210,000 active members every week. More than 1.5 million AsianMelodies members are from the United States, followed by those who live in the United Kingdom and then Australia.
Most of the female members from AsianMelodies are from East Asian descent, and most of the male members are Westerners. The ladies are mostly between the ages of 25 and 34, while the men are mostly 55 years old and older.
The male to female ratio on this Asian dating site is 70:30.  
How Do You Set Up Your Profile at AsianMelodies?
Setting up a profile at AsianMelodies is easy. But first, you need to sign up for the service.
Visit the company's homepage. The first thing you see is a pretty lady on the right-hand side and then your eye is drawn to the sign up form on the left-hand side.
The form reminds you that it's free to join. Then you need to fill in your gender, name, birthday, and email address. Type in a password and then check the box to say you agree with the Terms and Conditions. Click Register.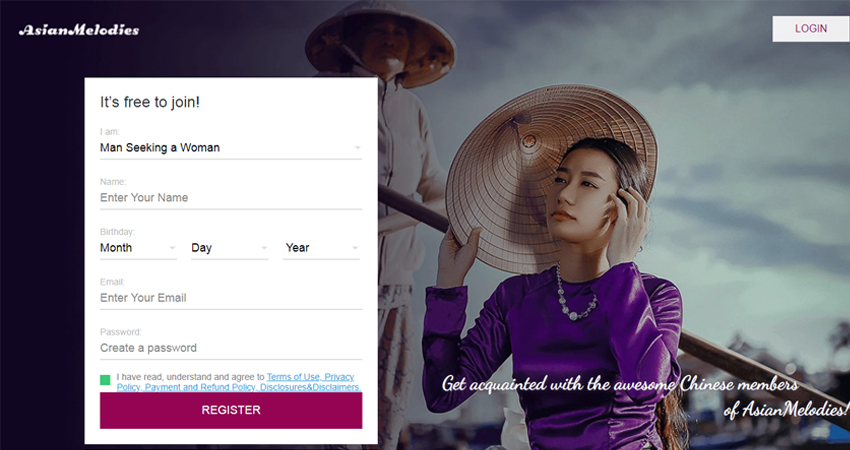 From there, you're required to fill in a few questionnaires. This will typically take about 10 minutes. The first one comprises about 10 questions, asking you about yourself, and then there's another with roughly the same number of questions that asks about your date.
You can skip these questionnaires, but if you complete them when you sign up, it means your profile is nearly complete.
Now it's time to verify your email. You need to activate your account before you can start browsing and finding the love of your life.
Does AsianMelodies Have a Mobile App?
AsianMelodies doesn't have a mobile app. So if you want to chat to your love interests on the go, then you need to use their website on your smart device.
The good news is that AsianMelodies' website is mobile friendly.
User Quality in Our Check (The Profiles Look Fake and Not Real)
There are various reports of fake accounts – the profiles of the Asian ladies look fake and not real. The photos simply look staged – too magazine, photo-shoot polished. These "fake" profiles are also quite bold, with sexually explicit messages and videos in the hopes of getting guys to click. 
To address the fake profiles found on their site, AsianMelodies now adds a "verified" badge on profiles once the member has submitted a valid ID to the site's moderators. (However, this isn't to say fake profiles don't still make it through.) 
But fake profiles aside, each profile is quite detailed, provided the individual completed and uploaded their profile and chosen photos. Members can also easily edit and update information on their profiles.
You can see the person's name, age, member ID, physical details, and where they live. 
Other information you can learn about your love interest include their parental and marital status, education, occupation, vices, religious beliefs, habits, and how well they speak English. In an About Me "essay-type section," members can reveal more about themselves, including what they are looking for romantically.  
You can preview all the profiles on AsianMelodies, even if you are a free member. Additionally, you can also see full-sized public photos at no charge. However, if you want to view a member's private (and often explicit) gallery or their videos, or upload a video to your profile, you need to be a paid member. 
Interesting to Know:
Asian men do not maintain any facial hairs like beards or a moustache as they are considered dirty. As a Westerner, you will struggle with Asian women if you have facial hair.
Usability and Interface of the Platform
The platform is quite user-intuitive and easy to use. You can also easily edit your profile to update it or add more information whenever you want to. 
Free and Fee-Based Services at AsianMelodies Compared
On AsianMelodies, you can do the following for free: 
If you want to access more features, you need to pay for them. These paid-for services include: 
The AsianMelodies Costs in An Overview
AsianMelodies doesn't use a paid monthly membership system. Instead, you buy credits, and then use the credits as you need. 
The site also gives you a "Welcome Package" of 20 credits. To redeem these, go to the Credits tab, and then click on the button that says "Get Welcome Package."   
Here are the cost per credit or credit bundle on AsianMelodies.com: 
So what can you "buy" with these credits, and how much do the different services cost? 
If you want to request your soulmate's contact information, you need to first spend 3,000 credits on that 1 person. Making the online relationship quite transactional in nature and obviously boosting the site's revenue stream.
Did you know?
Asian women do not all look the same? A Chinese lady would be short with dark eyes and small breasts with a rigid character. Her Mongolian counterpart would be tall with rice eyes, big breasts, and a warm personality.
Customer Reviews of AsianMelodies at Trustpilot & Sitejabber
Customer reviews of AsianMelodies seem to be quite divided. Let's look at the reviews on TurstPilot first. 
AsianMelodies only has 123 reviews, with an average 3.2 star rating. The company has claimed their profile on TrustPilot, replied to 67% of the negative reviews, and replies to these usually within 24 hours. 
16% of reviewers rate AsianMelodies as "Excellent," 17% as "Great," and 62% as "Bad." The other 2% and 3% respectively rate the dating platform as "Average" and "Poor." 
Headlines of good reviews are "I was pleased that AsianMelodies gives … a welcome bonus," "I chose AsianMelodies for chatting … good daily activity," and "Registration at AsianMelodies is quick." 
On the other end, the site's "Bad" review headlines are "Banned with no explanation," "This site is so fake," "98% of the photos are fake," and "Complete Scam." 
The negative reviews are also a lot more detailed than the few positive ones that are mostly generic, making me wonder about their authenticity.
Let's move onto SiteJabber's reviews. 
There are only 48 reviews of AsianMelodies, and they have a 3.96 star rating. 
30 reviewers give the online dating tool 4 stars, 13 reviewers give them 5 stars, while 5 reviewers give them 1 star.
Examples of good review headlines are "I like," "Good site," and "AsianMelodies." Like the last headline actually says anything (insert eye roll emoji). 
One reviewer rated the site as 4 stars, but then complained about how you shouldn't fall victim to this scam.  
There are also the 1 star reviews that say, "These women are just preying on your money" and "Do not join this site." 
Like with TrustPilot, AsianMelodies has responded to the negative reviews.  
What Security Features Does AsianMelodies Have?
AsianMelodies place "verified" badges on members' profiles once the individual has sent their ID to the support team and it's been verified. 
The dating company also has an anti-scam policy where they outline various scams and give tips to avoid being scammed.  
The AsianMelodies website also has a valid SSL certificate. 
TOP Alternative to AsianMelodies
Here is a top alternative to AsianMelodies to try to meet a bride from Asia:
LoveMe.com (A Foreign Affair)
Loveme is an ideal dating site if you are looking for an interracial relationship. It is worth trying out as it makes your dating experience as real as possible with the Singles Events organised internationally, where you can meet potential partners face-to-face. Men can also send gifts like chocolates and flowers in real life. The site organises for couples to meet up upon request.
Loveme has over 60,000 members active every week, with a majority of female members from Asia, Latin America and Eastern Europe. Registration is easy, and the site allows any sexual orientation; you indicate your preference as you sign up. Questions vary for male and female members, with appearance being the focus on the women's questionnaire and background being the focus for the men.
For a monthly renewal fee of $29.95 for Platinum membership, you get access to private videos, Singles tours, sending real-life gifts, messaging services, and three-way phone calls inclusive of a translator.
How Do I Delete My AsianMelodies Account?
If you want to delete your AsianMelodies.com account, you need to reach out to their customer service support team. 
Our Verdict: Stay away from AsianMelodies
My final verdict on AsianMelodies is that you should stay away from this site. I don't recommend AsianMelodies because of the many fake profiles (and many profiles still seem to be fake despite the "verified" badges), the chats that are run by a company team, the VERY expensive credit system, and host of poor customer reviews. 
The fact that even the positive reviews don't have anything of substance makes me wary, and AsianMelodies has the same feedback for all bad reviews – that the customers should get in touch so they can investigate the matter. 
Maybe if this online dating service did a better job, there wouldn't be need to investigate after the fact. 
Review was last revised on May 19, 2023
You want to learn how to find an amazing Asian woman and have unforgetable international dating adventures but don't guess where to start. Don't worry, we can help! ☝️
Ask Krystyna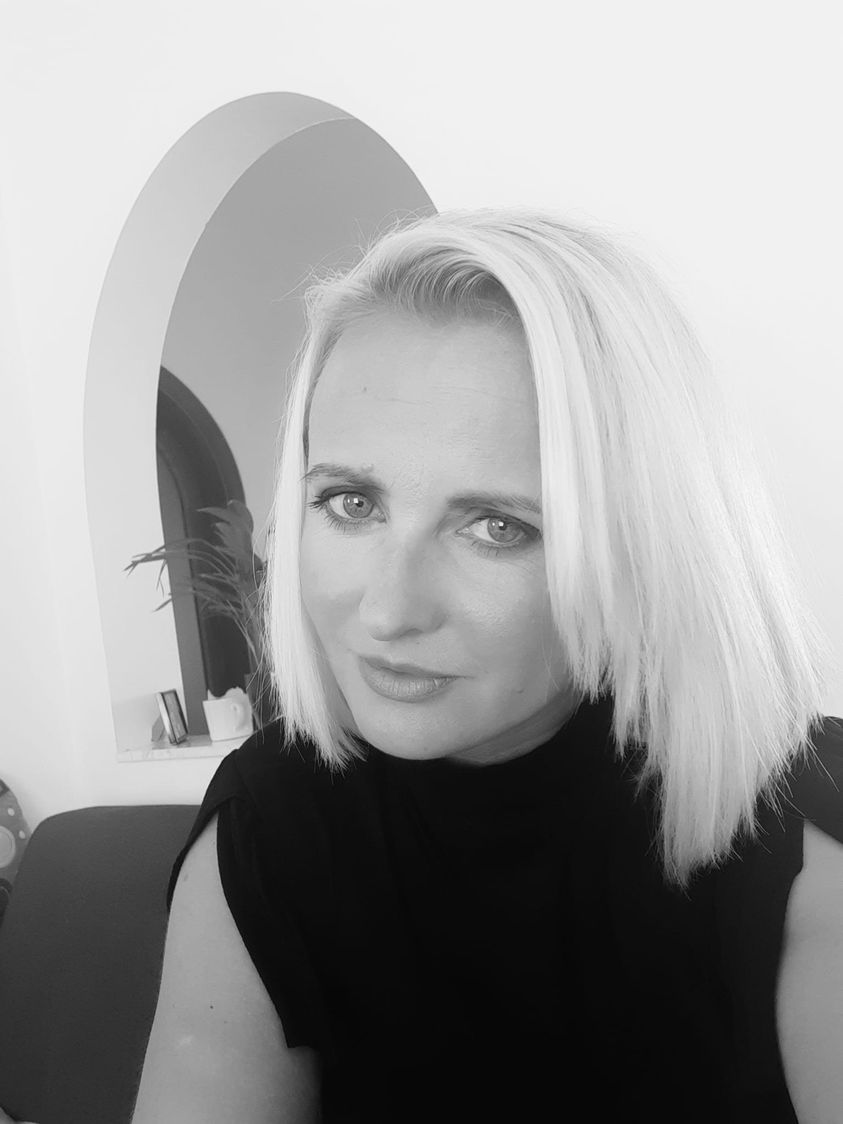 Hey there! 🙂 Krystyna here. Welcome to Asian Dating Journal!
Writing on International dating, romance scams and relationships so you don't have to feel alone on your Asian / foreign dating journey.
Krystyna is a dating blogger and coach that focuses on helping Western men to connect with foreign women. In her guides, she speaks from her own experiences and gives field-tested tips & hacks.
Need dating coaching? Check here: www.krioda.com