Most of the people who want to date Asian ladies are attracted to them because of their stunning beauty. Dating is not an easy process for most people, and becomes even harder in an Asian context due to the possibility of cultural differences.
The Asian culture differs from European and American cultures: thus, various individuals may experience difficulties associated with interacting with those ladies. However, in the event you decide to date an Asian lady that appeals to you, the first step is to understand their culture in detail. This article aims at reviewing facts about the Asian dating culture.
Dating traditions in Asian countries
East Asian countries such as China put a lot of pressure on getting married. Due to the gender imbalances in China caused by the one-child per family policy that was in effect in the last decades. Did you know that there are marriage markets in China? Marriage markets are places where a girl's parents take the pictures of their daughter with an objective of getting her a spouse. In China, couples do text and call multiple times in a day.
Thai ladies are ideally conservative, shy and monogamous. They are firm in affection, but they only get intimate when their relationship is approaching marriage. Otherwise, you will have to restrain from physical contact other than sitting beside each other. They also have a tradition where they recognize the man as head of the family regardless of whether he is Asian or not.
In Indonesia, it is the responsibility of men to make the first move. They are expected to initiate the conversation, call the ladies first, send them flowers, etc. 
What should I know about Asian dating culture?
In multiple cultures of the world, the dating process entails three steps namely: meet, date, then get in a relationship. However, it is interesting to know that the Asian dating culture misses the second step. The "dating" idea is not a popular thing among Asian locals.
Basically, you will meet a man or a woman, go on a first date together, then depending on how the date goes, the couple decides if they'll be together or not. There is nothing much to be discussed such as if you're supposed to call each other love names, and "taking things to the next level".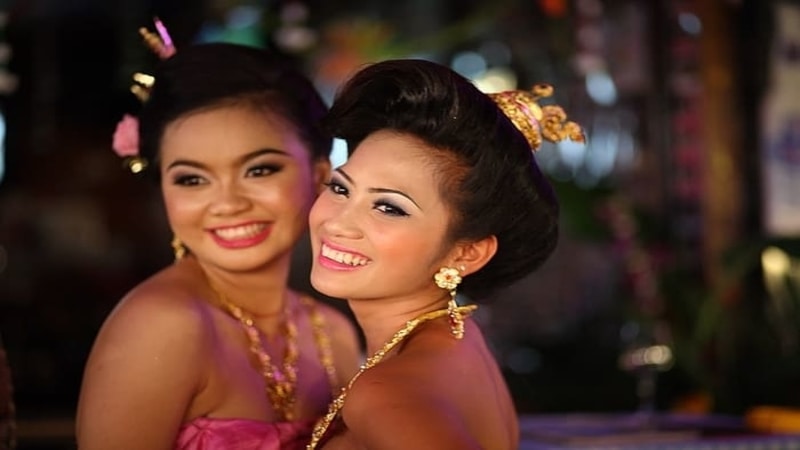 Furthermore, Asian ladies have a culture where two friends could go after the same girl and there is absolutely no problem. In Asian countries, it is common for friends to try and impress the same girl at the same time, and compete against one another. Asian's culture of couples wearing matching outfits to portray love and affection.
What are stereotypes about dating Asian women
There is a plethora of misconceptions about Asian ladies, and how they conduct their love relationships. These stereotypes in the long run affect the manner in which foreign men interact with Asian ladies. They include:
For decades now, the media has been purporting Asian women to be subservient and submissive people. Most people think that they are not strong enough to defend themselves.
It is not uncommon to find multiple people who have fetishes based on Asian ladies. Some of these ideas originated from the popular Asia's huge sex trafficking business.
They are too smart and book-obsessed.
As much as it's not a bad thing to be reasonably smart, there are people who are attracted to Asian ladies because they think that they are very intelligent. This notion is oppressive and limiting to Asian ladies.
They only want you to converse in their Asian language.
When non-Asian speakers meet Asian people, especially Chinese, their first move is to try and speak a few of the native words that they know. People tend to think that making assumptions about people's background solely based on their appearance.
Random fact you won't believe is true
In Indonesia, people can not be considered as dating if the man has not told the lady, "I love you".
How to attract an Asian woman
Asian ladies love men who like to enjoy life. They want a person they can have superb chemistry with, enjoy their personality and shared interests. They are not willing to be attracted to a rigid person who only concentrates on their career, and spends all their time working on their business projects. 
They are already accustomed to typical Chinese men who only care about getting a stable job, a home and afford luxury items. Therefore, to attract an Asian lady, you need to have a wider and more open-minded view of life.
Furthermore, sharing identical values and interests is another way of attracting Asian ladies. This is because Asian ladies believe that sharing similar interests determines how you are going to get along with your partner in the long run. It is an indication of a high commitment level, and provides her with a sense of security.
How does an Asian woman show she likes you?
There are people that express their feelings verbally, and those who express them non-verbally. Asian ladies tend to not verbally express their feelings of attraction, and rather prefer to hold hands and cuddle. The reason for this is because they avoid rejection and awkwardness.
They will constantly touch you at least once or twice. Since Asian ladies are not known to express their feelings verbally, when they touch especially if unnecessary, then there is a high likelihood that she is interested in you. In addition, they will maintain eye contact with a person they are attracted to. Naturally, Asian ladies are shy, but once they are into you, they will gather the courage to maintain eye contact with you for a considerable amount of time.
Asian women are known to be extremely conservative when it comes to issues such who they are dating, getting sexually intimate with, and even socializing with. However, if she likes you, she will comfortably give you her number, and in other cases, she may initiate the conversation first. This shows that she is comfortable being around you.
Do's and Don'ts During Dating an Asian woman
Top 5 questions for successful dating with an Asian woman
It is important to understand that a date is not a venue or time to be asking a series of questions like a detective. Rather, it is a platform to interact, connect and get to meet and know each other.
That said, here are the best 5 questions for successful dating:
Dating Asian ladies could be exciting, and is very different from dating ladies from other cultures. Cross-cultural relationships tend to behave like an awkward dance. You both are determined to succeed in the dance, but along the way, there are missteps.
For people who are open-minded and would like to give a shot at an intercultural relationship, it is totally worth the try, because the great times overshadow those awkward times. Understanding the uniqueness of Asian ladies goes a long way in building and maintaining a relationship with them.
About the editor: Krystyna has published over 500 articles related to international dating in English and German. In her regularly updated blog posts, Krystyna shows a good eye for online dating topics, romance scams and cross-cultural relationships.
As the leading International Dating Expert and Dating Coach Krystyna is involved in a wide variety of different areas, such as personal dating coaching, online dating and matchmaking.
Need dating coaching? Check here: www.krioda.com
Brides from Southeast Asia